The VIP Center is available for virtual and in-person appointments. To schedule an appointment with a confidential advocate, please email vipcenter@creighton.edu.
In-person appointments: Monday and Wednesday, 12:00PM-8:00PM
Virtual appointments: Tuesday, Thursday, Friday 9:00AM-5:00PM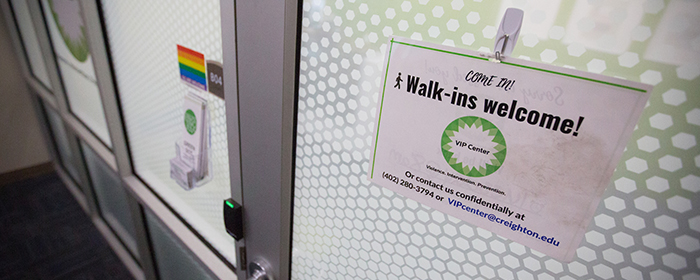 We are a free, confidential resource for Creighton students, faculty, and staff.
We support individuals following incidents of sexual assault, dating/domestic violence, stalking, and other related issues. This includes primary survivors (individuals experiencing an act of violence) and secondary survivors (friends, roommates, parents, etc.)
You can contact us via e-mail (VIPcenter@creighton.edu) or call (402) 280-3794. Incidents can be reported via the Office of Equity and Inclusion.
You don't need to make a report to talk with us, if a report is made then the VIP center will support you through the process.
We also focus on prevention, education, and training. We offer programs available for student groups, classes, meetings, student organizations, departments, and more.