Creighton University Student Employment Office
2500 California Plaza
Harper Center, Room 1100
Omaha, NE 68178
1-800-282-5835
Local: 402-280-2457
Fax: 402-280-2895
"My internship in the University Communications and Marketing has been a fantastic opportunity to strengthen my design skills outside of the classroom. I've been able to learn from seasoned designers and work with a diverse group of clients. My experience in UCOM has definitely made me more prepared to work in the professional world. I also formed some great relationships and had a lot of fun!"
- Susie Dobberpuhl
UCOM Intern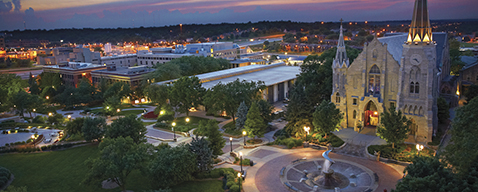 Creighton Policy
Student workers are limited to an average of no more than 29 work hours per week in a calendar year. If a student workes more than one campus job, the 29 hour limit applies to the combined total of hours.
International students are limited by their VISA to no more than 20 hours of work per week, all jobs combined, during periods of enrollment.
Forms:
PR2S_new online student employment action form. Use Firefox or IE browsers.
PR-2-S Student Employment Authorization word doc.
Direct Deposit for paychecks. You may obtain the form from HR or the Student Employment Office. You will be asked to provide a voided check or other bank statement confirming your account number. You can also request that a form be emailed to you by contacting humanresources@creighton.edu. When you turn in your completed Direct Deposit, please have your CU ID with you. You can use the MYHR online system to update your Direct Deposit if you change banks etc.
I-9 Employment Eligibility Verification form and Instructions Download I-9 form and see last page for a list of acceptable documents.
On-line I-9 form -(Creighton's code is 12603) Creighton participates in E-Verify. Students can go on-line and start completing the form with the initial information but then they must report in person to Human Resources to present documents. Please remind students to bring an ORIGINAL document(s) that proves they are legally eligible to work in the US. International students should report in to the CU Payroll office to complete the I-9. All FWS students will complete the form in the Student Employment Office.
Handbooks:
Resources:
Here are some helpful on-line tools for completing the MYHR online timesheet:
In order to be considered a student employee for summer employment, you need to be registered at least part time in the summer for credit granting courses, or have the intention to register at least part time in the following Fall semester.