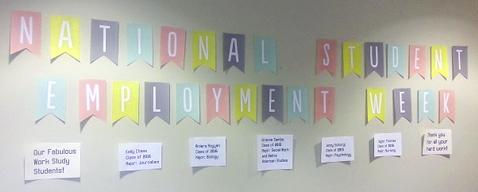 National Student Employment Week April 09 - 15, 2017
Recognizing Student Employee Contributions
"Each year colleges and universities across the country recognize the importance of the student work experience during National Student Employment Week. Student employment offers students career-enhancing opportunities, the ability to develop skills relevant in any career, and better preparation for the job market upon graduation. Of course, a primary motivation for most students is the need to help pay for their education. Many students are able to earn a significant portion of their college expenses, thus avoiding the debt burden so common with college graduates today. On their campuses, student employees perform invaluable services with enthusiasm, dedication, and initiative. Indeed, most schools depend on the contributions of this reliable workforce for the efficient operation of the entire campus."
"It is appropriate to set aside a special week to draw the awareness of others, both on campus and off, to the contributions student workers make in the multitude of roles they fill."
. . . . . . The National Student Employment Association
Here are some suggestions to make the week fun for all ........
Make "pat on the back" awards by tracing an outline of a hand on paper, make sufficient copies, write personal note on each that tells why the student deserves a pat on the back.
Have "pay stub drawing" where you give prizes to first 10 students who bring their paycheck stub to your office (t-shirt, small gift item, something similar). Have a "reverse drawing" -- put numbers on all gifts, students who win choose a number (or draw from a bowl), then get the gift corresponding to that number. It's easier than drawing their name, then trying to track down the student to give him/her their gift!
Have some "Phony Baloney Contests" where supervisors or other students nominate student workers for bogus categories like "greenest hair," "funkiest dresser," "my favorite person to be marooned on a desert island with," "best karaoke singer," etc. Put all nominees in hat, draw names in each category, give small prizes to all and also to nominator.
Give certificates for Longest Commute (to work), Weirdest Job, Above & Beyond (for student worker who performed over what was expected), Perfect Attendance, etc. ? Everybody meet for a movie and dinner.
Take a group digital picture and send it to a photo editor like Walgreens to make mouse pads , cups, etc
Sponsor a competition to design banners, posters, or a logo for your department.
Fill a display case in your department with materials relating to your student workers such as pictures of students at work, employee handbooks, frequently used materials, awards.
Have a contest or drawing for students to choose their Favorite Supervisor or Employer of the Year. Can be humorous or serious; criteria could be "longest hair" or "most likely to bring in baked goods" "reminds me of my mom/dad," etc.
Arrange for your Vice President or Dean to do some "reverse" job shadowing -- let them partner with a student worker for a day or even an hour, to see what kinds of duties are involved.
Decorate office doors or bulletin boards with posters expressing appreciation to your student workers and listing all their names.
Prepare "care packages" to give to student workers with popcorn, trail mix, soft drinks, hot chocolate mix, etc.
Organize trivia contests with questions about Creighton or your department , date founded, original name of school, famous athletes, "who is Markoe Hall named after?" Could also include pictures of student workers and ask "who is this person?"
Post baby pictures of student workers with caption, "Who is this?" Have lots of small prizes since you'll have lots of winners.
Have scavenger hunts. Request things (and places) students should be familiar with, like instructions on how to open an email account, list of community service agencies seeking student volunteers, brochure about campus organizations, signatures of the presidents of the various student groups. Again, have lots of small prizes for all winners.
Throw a pizza party, potluck, do-it-yourself sundae bar, footlong sub party; have popcorn machine in your office; serve cake & punch; have a hamburger/hot dog BBQ, breakfast/ lunch/hors d'oeuvre/ A balloon bouquet further adds to the festive spirit.
Have raffles or drawings, get donations from any on-campus department or off-campus employer. Possible items include: food, gift, or grocery certificates, free night in hotel, free game or concert tickets, video coupons, fast food coupons, textbook coupons, free movie tickets, , even coupons for photo developing are welcomed by students. Other possible give-aways: phone cards, coffee mugs filled with candy and imprinted with National Student Employment Week and/or department name; group pictures of students and their supervisor.
Make "friendship plants" with cuttings from an office plant, put in small flower pot with card "Your roots will always be here."