2018 Student Employee of the Year Nomination Form
Brendan Gernes, Senior Arts and Sciences student, has been selected the Creighton Student Employee of the year for 2017. Mason Harmon is his nominating supervisor. Brendan has worked in the Office of Development Phonathon for the past 4 years. Following his graduation in May, he plans to do a year of volunteer service in South America.
Brendan's job:
Student supervisor for up to 50 Student Development Officers
Develops training processes, materials, games, incentives for callers
His Phonathon efforts netted almost $50,000
Recruits, interviews, hires and trains close to 35 new student employees and new student supervisors each year
Generates nightly pledge letters, analyzes data, and conducts student evaluations twice each semester
"Brendan can build rapport with anyone whether it be a donor on the phone or a new employee."
"He is emotionally intelligent and knows how to react in sensitive situations."
"He takes charge when he is the only supervisor present. He has never missed a shift. He truly cares for the well-being of our students. He always provides advice and encouragement."
"Brendan spearheads new initiatives that help us reach our monetary goals by developing techniques that help students feel comfortable negotiating on the phone."
Nominees
All nominees will receive a letter of commendation from Fr. Hendrickson. Brendan will receive a $1000 scholarship at a luncheon in his honor. Runners up Serenity McAndrews (SPAHP) and Catherine Pedigo (University Archives) will receive $250 scholarships.
A special "thank you" to all the supervisors who nominated these wonderful student workers.
Past honorees and departments:
Gabrielle Branden - Health Sciences Library 2016
Danielle Aruda - School of Pharmacy HP 2015
Thomas Murdock -Internal Audit 2014
Xuhyll Ann Roman - Undergraduate Admissions 2013
Sheila Field - Student Support Services 2012
Elizabeth Boos - Fine and Performing Arts 2011
Joy Chaput – Career Center 2010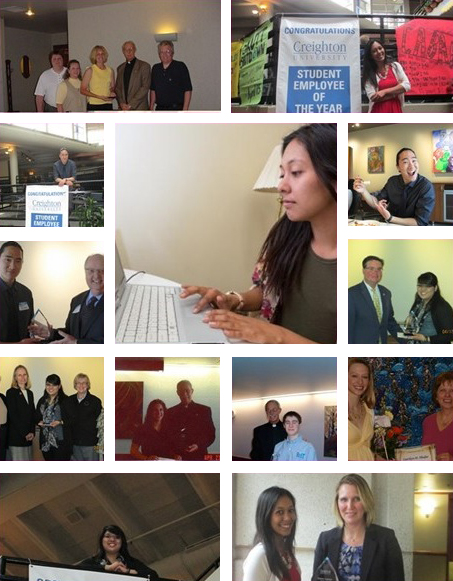 Jake Webb – Student Centers 2009
Carolyn Pfeifer – School of Medicine 2008
Kathryn Welsh – Residence Life 2006
Bettina Hamilton – Reinert Alumni Library 2005
Sean Kelly –Dept of Information Technology 2004
Leanne Vigue – School of Pharmacy HP 2003
De Ann Kaster – Athletics 2002
Mandi L. Johnson - Kiewit Hall 2001
Josh Capp – Information Technology 2000
Luke Pella - Arts & Sciences Dean's Office 1999
Keith Baynes - Bone Metabolism 1998
Amy Melvin - Microbiology 1997
Len Tanaka - Pharmacy School 1996
Trina Fortunato - Campus Recreation 1995
Jennifer Oborny - Occupational Therapy 1994
Anne Cooley -Exercise Science 1993