May 7, 2021
May 7, 2021

New Board Chair, Members Announced
I am pleased to announce that during its quarterly meeting today, the Creighton Board of Trustees elected alumnus Nizar Ghoussaini, BS'75, MS'76, chair of our Board. We also honored outgoing chair Mike McCarthy, appointed two new vice chairs, welcomed six new members, and recognized two outgoing members.
Ghoussaini, a member of Creighton's Board since 2016, brings three decades of experience in the automotive industry, and more than a decade of experience in private equity, to his new role as chair. 
Born and raised in Beirut, Lebanon, Ghoussaini attended high school in Lebanon and worked briefly in Liberia and the Republic of Panama before moving to Omaha to attend Creighton. He holds a bachelor's and master's degree in chemistry from Creighton, and a master's degree in chemical engineering from the University of Detroit Mercy. 
Beginning his career as a product engineer at Dayco Corporation's Allen Industries and then at General Motors, he subsequently was recruited by Imperial Chemical Industries' (ICI) Polyurethanes Division and served as automotive business director for the Americas, overseeing ICI's activities in the United States, Mexico, and Canada.
He joined Lear Corporation as head of its German business unit in 1995, and was named president of Lear Corporation's premium car division in 1997. He then spent nine years as president and CEO of Benteler Automotive in Germany. In 2008, Ghoussaini joined European private equity firm Triton Partners as a senior operating partner. 
In addition to his degrees from Creighton and Detroit Mercy, Ghoussaini received business training at Harvard Business School, the Wharton School of the University of Pennsylvania, and the London Business School. He has been active in charitable organizations and on corporate boards, including serving as chairman of the materials handling systems company Dematic and automotive supplier Stabilus.
Ghoussaini succeeds Mike McCarthy, a Board member since 2006 and chair since 2015. During his 15 years on the Board and six years as chair, McCarthy has displayed unwavering support and leadership to the Creighton community and to our mission, and I am personally deeply grateful for the many ways he has provided valuable counsel to me as president.
He has been instrumental in seeing Creighton University through many changes and unprecedented expansion. Among other accomplishments, McCarthy played an integral role in facilitating our health sciences growth in Phoenix. The partnerships and the educational opportunities we have developed in Arizona have opened a much brighter future for Creighton, and it is because of McCarthy's leadership that we can state that Creighton is soon to become the largest Catholic health sciences educator in the United States. 
McCarthy also has played a critical role in the restructuring and expansion of our Board; our membership represents an impressive and impassioned range of professional and civic expertise and involvement. In addition, with his guidance and leadership, we crafted the Creighton 150 Strategic Plan: Lighting the Way; completed two successful provost searches; inaugurated the Kingfisher Institute; opened our state-of-the-art School of Dentistry building; navigated the sale of the CHI Health Creighton University Medical Center property at 30th Street and strengthened our partnership with CHI Health; and most recently announced plans for construction of the CL Werner Center for Health Sciences Education. 
I would also like to thank outgoing members Ryan Zabrowski, BSBA'01, and Robert "Bob" Greenwood, BSPha'77, for their service to the Board. Zabrowski was president of the National Alumni Board (NAB) at the start of his term in 2015, and was re-elected to a four-year term in 2017, giving Creighton a total of six years of service. Greenwood is the current NAB president and was appointed to the Board in 2019. He will leave the Board with two years of service.
Looking to build on the momentum fostered by McCarthy and our other Board members, I am also announcing the appointment of two Board members to the position of vice chair, Gail Werner-Robertson, BA'84, JD'88, and James Blackledge, MBA'98, and welcoming several new members to the Board. Werner-Robertson joined the Board in 2003 and is president of GWR Wealth Management, which she founded; Blackledge has been a board member since 2017 and is chairman and CEO of Mutual of Omaha. The new members are: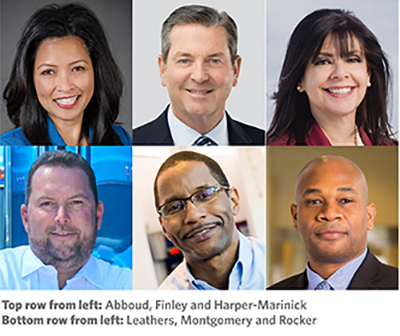 Josie Abboud, BSN'95 – Abboud is president and CEO of Methodist Hospital and Methodist Women's Hospital. She is a graduate of the Creighton College of Nursing, a recipient of Creighton's Alumni Merit Award, and an active contributor to many community organizations. She is a Fellow in the American College of Healthcare.
Mike Finley, BSBA'83 – Finley has been the chief executive officer of Los Angeles-based Boingo Wireless since March 2019, previously having served as president of Qualcomm. He earned a degree in marketing from Creighton, and as a former baseball player is a member of the Creighton University Athletic Hall of Fame.
Maria Harper-Marinick, PhD – Harper-Marinick is a national leader in higher education and served the Maricopa (Arizona) Community College District, one of the largest community college systems in the nation, for almost 30 years in a variety of leadership roles, most recently as chancellor.
Derek Leathers – Leathers is the vice chairman, president, and chief executive officer of Werner Enterprises, where he has provided leadership for more than 20 years, including developing Werner's cross-border operations with Mexico and leading the launch of Werner Global Logistics. He holds a degree in economics from Princeton University.
Donald Montgomery, BSBA'84, JD'89 – Montgomery is senior vice president and senior tax counsel for Synchrony Financial, responsible for general tax planning, mergers and acquisitions tax, international tax, and tax audits. He is a graduate of our School of Law and Heider College of Business, a former member of the baseball team, and an Alumni Merit Award recipient.
Kenny Rocker – Rocker is executive vice president for marketing and sales at Union Pacific Railroad, where he carries responsibility for the company's three major business units. He graduated with a finance degree from Tuskegee University and currently serves on the Seventy Five North and Children's Hospital boards.
I am particularly pleased that this new group of trustees represents a wonderful mix of diversity. That aligns with my firm commitment, along with our Board, to continue diversifying membership with expertise, geographic representation, gender, and race. Additionally, Patrick Saint-Jean, SJ, PsyD, a member of the Upper Midwest Province of the Society of Jesus and from Haiti, working in the Department of Psychology and Student Counseling, will join the Board as a trustee associate.
On a final note, the Board today also passed a formal resolution expressing gratitude to members of the Creighton faculty and staff for their response to the COVID-19 pandemic. The Board recognized faculty and staff for their creativity and hard work in adapting to the challenges of the pandemic, and formally thanked them for their commitment to serving students this past year.
I, too, am grateful for the unparalleled commitment of our faculty and staff, and I look forward to working with campus colleagues, new Board members, our new Board chair, and the entire Creighton community as we enter an exciting and important chapter in the University's history. Together we will embrace a bold vision for our shared future.

Sincerely,
Rev. Daniel S. Hendrickson, SJ, PhD