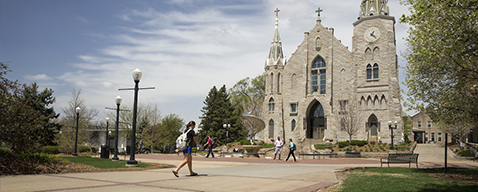 The Student Employment Office staff is here to support you as you navigate the process of finding on-campus employment. Part-time student workers play an important role in helping departments on campus carry out their daily work. Each year, more than 2,500 Creighton students help meet their educational expenses by working both through Federal Work Study and university-funded employment. Student employees serve in a wide variety of positions from intramural referees at soccer games to research assistants in Health Sciences labs. We encourage you to make the most out of your student employment experience and to reach out to us if you need assistance.
The Student Employment Office connects students to employment opportunities on campus primarily through Jobs4Jays, powered by Handshake. It is Creighton University's online career management system that offers many benefits including a search function for On-Campus Student Employment, a mobile friendly interface, and a personalized experience for students and employers to connect for opportunities. Keep in mind that some on-campus jobs are filled by word-of-mouth. Contact any departments of interest directly.
Students being hired by CU departments will complete their I-9 in the Human Resources Office located in the Creighton Cardiac Center, at the far west end of campus, on the SW corner of 30 St and Burt St. Park and enter on the west side of building.
Federal Work Study students will complete their I-9 in the Student Employment Office, Harper Center rm 2054.
Learn more here.