Eppley Building, Room 450
2500 California Plaza,
Omaha, NE 68178-0106
Phone: 402.280.2820
Fax: 402.280.1117

We empower teachers, administrators, and counselors to transform the lives of their students by preparing graduates to be compassionate and effective leaders in the Jesuit tradition.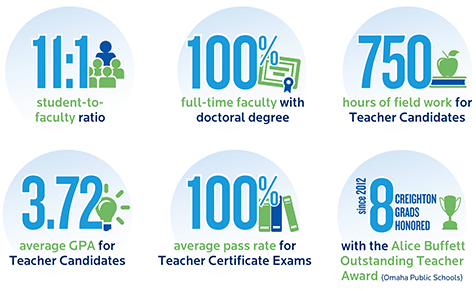 In the Jesuit tradition, we graduate women and men who build a better world by living and leading according to these charisms:
Reflective practice (contemplation in action),
Care for others (

cura personalis

),
Promotion of service, justice, and inclusive community (men and women for and with others),
Sharing gifts for the greater good and the greater glory of God (

magis

,

ad majorem Dei gloriam

).
We will be known for:
Placing the Jesuit charisms and Ignatian pedagogy at the center of all coursework.
Emphasizing social justice so that our graduates are formed to lead in highly diverse schools.
Providing specialized preparation so that our graduates are ready to serve students with diverse needs and backgrounds in P-12 schools.
Providing specialized preparation for those who wish to serve in Catholic schools.